| | | | |
| --- | --- | --- | --- |
| The Roots of the Crisis in Gaza | | | |
By Zubeida Jaffer*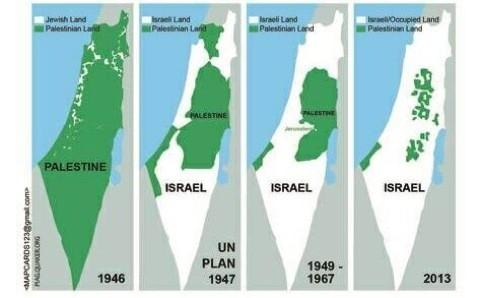 The crisis in the Gaza has its roots in the events of the two world wars. At the end of the First World War, Lord Arthur Balfour, the British foreign secretary, drafted a declaration that recognized the establishment of a Jewish homeland in Palestine. At the time, ninety percent of the people of Palestine were non-Jews. British liberal public opinion believed that Jews had suffered historical injustices, that the West was to blame, and that therefore, the West had a responsibility to enable a Jewish homeland. Zionist activists helped him draft the declaration that was put before the British parliament.
"His Majesty's Government view with favour the establishment in Palestine of a national home for the Jewish people, and will use their best endeavours to facilitate the achievement of this object, it being clearly understood that nothing shall be done which may prejudice the civil and religious rights of existing non-Jewish communities in Palestine, or the rights and political status enjoyed by Jews in any other country."
At the time, Balfour was part of the liberal government of Prime Minister David Lloyd George. Some interpreters of the Declaration have argued that it was never intended as an endorsement of a uniquely Jewish state. Rather, that Jews would establish a homeland in Palestine alongside Palestinians and other Arabs established there for almost two millennia.
When Palestinians protested in the 30's, British and Jewish forces put down their uprising. Soon the Second World War followed and the criminal behavior of the German Nazis resulted in the aggressive immigration of Jews to Palestine.  In 1948, three years after the end of the war, Israel declared its independence with the assistance of Britain and other mainly European countries.
A careful study of British history will point to a number of historical injustices that have their origins in the British parliament.

Take our own country for example. The British Kingdom did not lift a finger when British and Dutch settlers reached an agreement here to take over – to steal would be more appropriate – South Africa from its local inhabitants in 1910 when the majority of people were excluded from having any rights in the country of their birth.  Before Union in 1910, they placed thousands of Afrikaners into concentration camps bringing them down to their knees. Earlier than that they happily encouraged Cecil John Rhodes to take our diamonds to Britain and to put local miners into guarded camps preventing them from owning any diamond rights.
One could go on and on.

But this is not about us. It is about the Palestinians and the Israelis. Surely many of them must be crying out for peace.
South Africa is a friend of Palestine in particular. Nelson Mandela made this point several times and insisted that the country would continue to stand by its friends. At the same time, he also acknowledged that South Africa recognizes the right of Israel to exist. Too much water had flown under the bridge when he and his party came to that conclusion in 1991. How then do we approach this crisis?

It is useful for us to be clear as we were when we fought colonialism and apartheid. We are fighting the system of Zionism and Israeli occupation. We are not fighting against Jewish people. We fought the system of Apartheid, not white people.  Under the guidance of a wise African leadership, this helped us control our anger and hatred towards individuals.
Last week's protest in London was phenomenal and hopefully partly demonstrated that the British people recognize their complicity in contributing to the creation of this problem. In earlier years, their government helped the Israeli's put down the uprisings of the people of Palestine. It was their government that gave the right to Jewish people to move to Palestine from all over the world. The tens of thousands who moved from Downing Street to the Israeli embassy on Saturday afternoon denounced Israel as a terrorist state and castigated Prime Minister David Cameron for backing Israel's right to self-defence against Hamas rocket fire.
At the weekend, President Obama at last expressed "serious concern" for the rising casualty count in the Gaza strip. It has taken him long. Those who benefit most from all of this drama are the huge arms industries in both these countries. Is he beholden to them? Will his envoy John Kerry act decisively or will they once again dither? This is one of the biggest foreign policy tests for the president. If in his reign, he behaves as those who have gone before him, it would be one of his greatest shames. He would confirm his status as a lame-duck president that many of us hope him not to be.
Interestingly, thousands of people came out on the streets of Chicago, his hometown at the weekend. Thousands have marched in New York city as well. It is no secret that the USA holds the greatest political sway over the Israeli's. This does not mean that the rest of us across the world should not protest.
However we do need to recognize that in this intractable political problem, it is strangely the people of the United Kingdom of Britain and the United States of America who hold in their hands the power to end the carnage and stop the occupation. May they camp out in London and Washington to stop this darkness closing in on us so that Israeli soldiers can go home to their parents and wives and Palestinian children can be tucked up into their beds at night. Perhaps then we will finally be able to start a process that can lay to rest the ghosts of the two world wars.

Zubeida Jaffer is a veteran South African journalist who is Writer-in-residence at the University of the Free State. For more information, see her website, www.zubeidajaffer.co.za
Sign the petition at Avaaz https://secure.avaaz.org/en/israel_palestine_this_is_how_it_ends_loc/?bcoCHab&v=42612


Last Updated on Sunday, 27 July 2014 14:30
| | | | |
| --- | --- | --- | --- |
| A Prayer Poem in the midst of bombing | | | |
By Shabbir Banoobhai
South Africa's Sufi poet

Prayer
O Lord of Grace and Mercy
O Dispenser of Love
O our Protector

in this age of war and waste
in this time of lies laundered as truth
in this day of mayhem and madness

ambush us with your love at every turn
cluster-bomb us with your grace and mercy
strike us with your missiles of guidance

commit us to the suicide of our egos
fill the caves of our minds with emptiness
except for the light of your presence

grant us endless loss of our greed and anger
and in the rubble of what we claim is true
help us find ourselves besieged by you

19 November 2001

On 19 November 2001 (on the 4th day of Ramadan of that year) when the US was bombing Afghanistan in retaliation for the tragic September 2001 attacks on the US, I wrote the first of my Ramadan emails – sharing a poem written that morning titled 'Prayer' decrying all violence.
This Ramadan (thirteen years later) US Secretary of State, John Kerry, has just concluded two days of talks in Kabul aimed at resolving the conflicting claims to power (as next President of Afghanistan) of Abdullah Abdullah and Ashraf Ghani, amidst allegations of massive vote rigging during the recently concluded Afghanistan Presidential elections. The votes will now be recounted with the process being supported by the US. 
In the course of attempting to help Afghanistan move from being a pre-democratic country to a democratic country, the United States has steadily moved from being a democratic country to a post-democratic country, where subterfuge now regularly trumps transparency, disunity is the norm, and economic malaise burgeons everywhere, threatening not only the US but the entire world.
The solution proposed by the Secretary of State to both Abdullah Abdullah and Ashraf Ghani: form an inclusive Government. When they do (let's assume they might, they have no other alternative) will John Kerry invite them to visit the US to talk to Republican and Democratic members of Congress on how to run a country together?
Surely there are lessons in the US-Afghanistan experience for all those involved in escalating violent conflict in other countries as well, including in Syria, Iraq, Israel and Palestine! 
How did we get here, I wonder. What tragedies must we endure still before we learn?
Perhaps we need to reminded of the power of prayer, self-evaluation, having good intentions, and living compassionately and with integrity always. 

Prayer
O Lord of Grace and Mercy
O Dispenser of Love
O our Protector

in this age of war and waste
in this time of lies laundered as truth
in this day of mayhem and madness

ambush us with your love at every turn
cluster-bomb us with your grace and mercy
strike us with your missiles of guidance

commit us to the suicide of our egos
fill the caves of our minds with emptiness
except for the light of your presence

grant us endless loss of our greed and anger
and in the rubble of what we claim is true
help us find ourselves besieged by you

19 November 2001
| | | | |
| --- | --- | --- | --- |
| Methodists called on to fast during Ramadan | | | |
By Zubeida Jaffer

Reverend Alan Storey of the Central Methodist Church in Cape Town recently called upon his congregation to join Muslims in their month of fast.

In a newsletter to his congregants, he called on them to observe the whole month or if they could not, they could choose a day or two per week.
He also encouraged them to go along to their local mosque for prayers and the joy of breaking fast together.

He made the call because he believed that in today's world where religions were often a source of division and conflict in society, it was important to affirm the faith traditions of others. "Ramadan is an ideal time to break bad habits, to reflect on one's personality and character – just as we are encouraged to do during Lent," he said. "Those who fast but make no change to their lives except delaying a meal cannot really expect to become any different in their behavior during or after Ramadan."

He invited his congregants to journey through Ramadan with two passages of Scripture to be read every morning and very evening. The scriptures are Isaiah 58 and Matthew 2:1-11.

He said that the fast from water, food and sex begins from sunrise and ends at sunset.
| | | | |
| --- | --- | --- | --- |
| Don't walk barefoot in Kirstenbosch | | | |
By Nirmala Nair
Kirstenbosch National Botanical Garden, in Cape Town is a great place, not just for tourists, but also for the locals, as a place where generational memories are shared. The mountain, the streams have been a perennial witness to centuries of change that took place on the slopes of the great Table Mountain.

From the days of the San people to where we are now the mountain has been a mute witness to many an upheaval. The Rhodes takeover and the subsequent development of the forests resulted in contained and well-managed gardens - Nature well-trained.

For some of us, reluctant city dwellers like myself, the mountain and the gardens have been a silent refuge, a place where I could arrive anytime of the day. It was one place where I felt I could replenish my energies. Here I could sustain my breath of life, bring up my children to imagine bigger and wilder forests. Forests untamed, unmanaged, where nature's awesome power made humans small and at its mercy.

Kirstenbosch is one place where my children ran barefoot as toddlers, I walked barefoot, we drank the water, splashed around, dunked our heads in the rivers.

Kirstenbosch for me and for thousands of Capetonians continue to provide a breath of life.

But it all started changing.
Read more...
Page 1 of 11